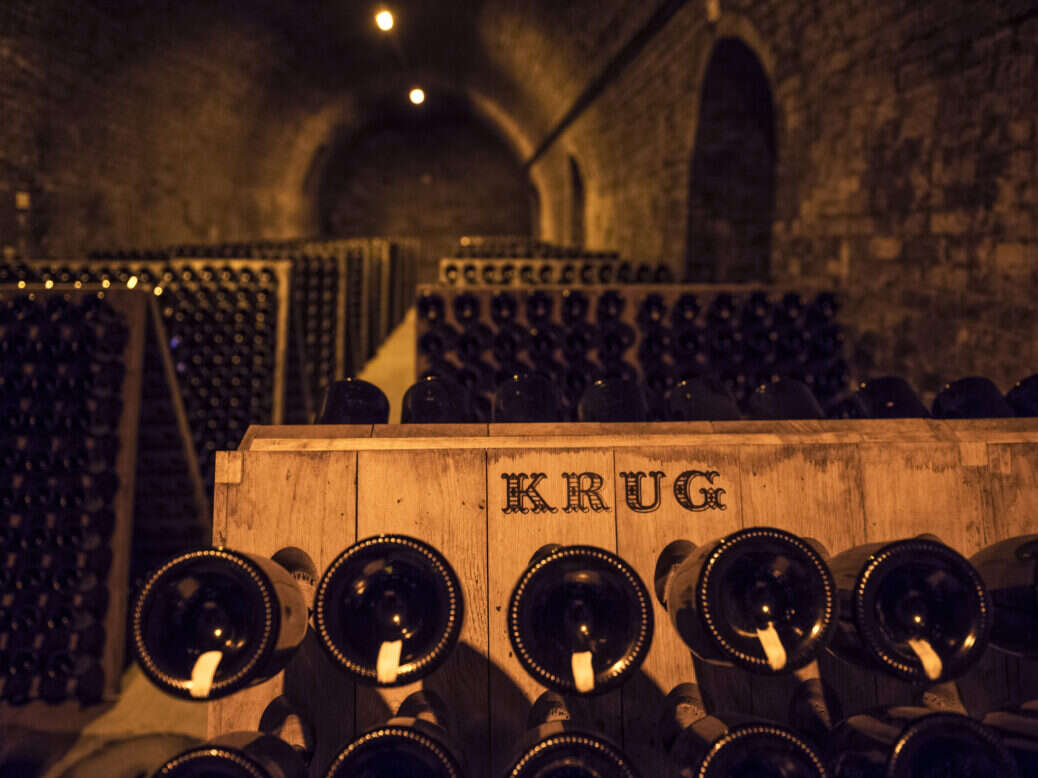 The World of Fine Wine's auctions and secondary market correspondent, Chloe Ashton, begins a new series on the world's finest wine estates with one of the biggest names in sparkling wine, Krug Champagne.
Krug was founded in 1843 by German-born Joseph Krug. Joseph's vision to create the very best expression of Champagne possible in every vintage was a transformative move, which has proliferated into the production of non-vintage blends by most Champagne producers today. Multiple generations of the Krug family have contributed to the house's success since its inception. Though no longer owned by the family (Maison Krug was sold to leading luxury giant, LVMH in 1999), the house is managed today by a member of Krug's sixth-generation, Olivier Krug.
Krug produces only prestige cuvees. Though minimum ageing requirements in Champagne call for three years of ageing on lees, Krug's vintage wines spend a minimum of 10 maturing in Krug's cellars. The house's signature style—complex Champagnes with rich and oxidative aromatics—is achieved by using oak barrels for first fermentation, and the marriage of hundreds of wines, vinified separately, forming the find blend.
What makes Krug Champagne special?
Masters of the multi-vintage
An industry pioneer, Joseph Krug is responsible for inventing the concept of Non-Vintage Champagne, making the Krug house a veritable founding father of the Champagne region. Seeking to produce a Champagne of consistent quality every year, Joseph created Krug's multi-vintage blend, which is known today as Krug Grande Cuvée, "the most generous expression of Champagne".
Musical mastery
Krug's Cellar Master, Julie Cavil, creates around 400 different wines from Krug's vine plots each year. The house equates tasting and blending these into their annual assemblage to composing a symphony. Maison Krug has extended this analogy into reality, collaborating with temporary composers to create musical pairings for their cuvées, named "Krug Echoes"—pieces of music designed to represent how the composer perceives the taste of Krug.
Modern methods
Beyond the innovative conception of a multi-vintage Champagne, Krug's recent history is characterised by the invention of its "Krug iD"—a six-digit identification code printed on the back label of every Krug bottle. The code gives drinkers access to information on the blend, vintage conditions, and even food pairing suggestions. Since its launch in 2011, many Champagne producers have chosen to follow suit, disclosing much more detailed information about the vintages included in multi-vintage blends.
How much does Krug wine cost?
As with most Champagne houses, prices of Krug vary greatly depending on the cuvée. The house's flagship, Krug Grande Cuvée, typically retails for c.$200 a bottle on release, and tends to increase in price as soon as a new iteration of Grande Cuvee is placed onto the market. Vintage Krug is more expensive, and harder to buy as the quantities produced are smaller, while the house's single-vineyard expressions—Krug Clos du Mesnil and Krug Clos d'Ambonnay are dearer still, retailing for well over $2,000.
How to buy Krug
Thanks to its wide distribution, Krug Grande Cuvée can be purchased through many major retailers worldwide on release, as well as through LVMH's own online retail site, Clos19. Krug's single-vintage and single-vineyard cuvées are more exclusive, and usually sold strictly on allocation.
The finest wines by Krug
Krug Grande Cuvée
The standard-bearer of Krug's house style, produced each year. The blend comprises a base of over 50 percent of one single vintage, and around 120 additional wines hailing from a further 10 vintages. Each new Grande Cuvee is given an edition number. Notable recent editions are: Krug 164 (2008 vintage base), Krug 168 (2012 base) and Krug 169 (2013 base).
Krug Rosé
Brothers Henri and Rémi Krug—fifth generation members of the Krug family—were responsible for the addition of a rose to the Krug range, with the first rose release in 1983. Krug Rosé follows the same production and blending methodology as Krug Grande Cuvee: look out for the 22ème edition (featuring a 2010 vintage base), and the 25ème (2013 base).
Krug Vintage
Produced only in the best vintages, Krug Vintage seeks to express the most representative characteristics of its given vintage, with an assemblage across Champagne grape varieties.
A single-vineyard, single-vintage Blanc de Blancs produced from a plot of just 1.84ha (4.55 acres) in the heart of Mesnil-sur-Oger—Champagne's most celebrated terroir for Chardonnay.
Clos du Mesnil's antipode, Clos d'Ambonnay is Krug's prestige Vintage Blanc de Noirs, produced from a 0.68ha (1.68-acre) plot in Ambonnay—famous for the Champagne region's best Pinot Noir.
Krug Collection
Maison Krug has created exclusive library releases of Krug Vintage, one decade on from its original release, since the 1981 vintage. The most recent Krug Collection vintage—released in 2016—is Krug 1990.
More in this series: