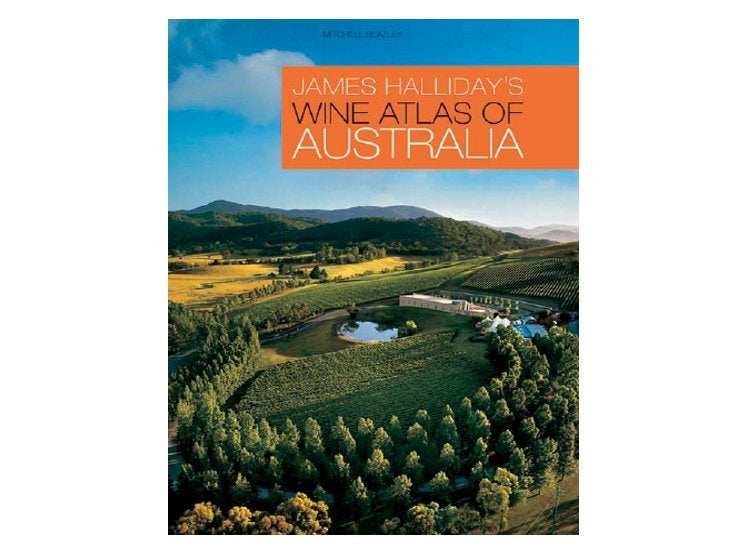 James Halliday,
Wine Atlas of Australia
Published by Mitchell Beazley/University of California Press UK £30, USA $45
Reviewed by Stuart George
It is eight years since the previous edition of the Wine Atlas of Australia, and Halliday's previous published effort was (as far as I can recall) his excellent Wines of Australia, published in 2005 as part of the Mitchell Beazley Wine Guides series.
The purpose of this Atlas, claims its author, is "to give you a far more detailed insight, however constrained by the tyranny of word length and space". This is a hefty tome, measuring 9 x 111/2 x 11/2in (23 x 29 x 4cm), with 311 pages, and is probably better used as a reference work rather than as a travel guide. The detail is impressive, with the climate, soil, and topography of every region described. The maps are perfectly adequate for reference purposes and are probably good enough to use as roadmaps.
More than 70 wine regions are described here-a reflection both of Halliday's outstanding knowledge and of how diverse and sophisticated Australian wine now is. As he points out in his introduction, in those eight years, "the number of wineries has increased from 990 to over 2,200; the national vineyards have increased from 98,500 hectares to over 164,000 hectares; wine production has risen from 737 to over 1,500 million litres […] and the number of officially registered wine regions […] is now 56, with further GIs knocking on the door".
Halliday's erudition is most impressive, and he probably name-drops as many books in his Atlas as Thomas Hardy does in Far from the Madding Crowd. But whereas Hardy was a young writer trying to dazzle, Halliday is an old pro who wears his erudition lightly (which makes it something of a pity that there is no proper bibliography here). All the wine-related jargon is clearly defined, though, making this book highly accessible even to the lay reader.
Far from the Madding Crowd was one of Hardy's "Novels of Character and Environment," which is also an apt description of this Atlas. Halliday grapples with some of the big debates in Australian wine at the moment: irrigation, soil, terroir, geographical indications, and, most interestingly, climate change and the greenhouse effect. His conclusion on the latter is that "global warming may not be bad news for the southern hemisphere regions […] the increased carbon dioxide levels may result in better wines [and] there is no barrier, formal or informal, to changing the varietal mix planted in New World vineyards in response to clearly established changes in climate. How different the position is for France".
It's undoubtedly definitive, and yet not quite comprehensive. One wishes that Halliday had included more of his brilliantly pithy appraisals of wineries and wines-often filled with telling little details-that made his Wines of Australia such a good read. In the Barossa section, for instance, there is no entry for Glaetzer, Saltram, St Hallett, or Turkey Flat, to name a random selection of wellregarded Barossa producers, and no Tim Adams in the Clare section. Despite these omissions, the entries that do appear have-to Halliday's great credit-been updated from Wines of Australia. In that book, Stephanie Toole of Mount Horrocks was merely "feisty." Now we learn that she is "ultra-feisty". Brava, Stephanie; and bravo, Mr Halliday!
Halliday's excellent prose reveals an iron first inside a velvet glove. One might suspect that Halliday would have a biased or even myopic view of Australian wine from his perch in the Yarra Valley-a view in which all Aussie grog is good. But he doesn't pull his punches on what he considers to be the underachievers of Australian wine. Clare Valley Chardonnay, for example, is dismissed as "an unqualified and almost consistent failure".
There are few failures in this book, however. Robert O'Callaghan is mistakenly captioned as "Tim and basket press" (Tim who? p.21), and Michael Hill- Smith is described as "the first Master of Wine not to come from the UK", though I suspect that American-born Nicolas Belfrage might contest that honor. Otherwise, it's impressively accurate. The book's landscape photography is good, too; and Halliday took some of the photos himself.
Halliday's position as the complete man of Australian wine remains unassailable, and this book is essential reading for anyone interested in Australian wine.